I've posted Sweet16 version 3.0.3 for download. The key changes in this release are a new About box—the first portion of Sweet16 to be rewritten as Cocoa code—and the following two key bug fixes:
I fixed a memory leak in full-screen mode that would fairly quickly eat up a lot of free memory the longer you stayed in full-screen mode.
The internal tools used to implement the ability to drag files in and out of the emulator were not built correctly to support Intel Core Duo processors. These are the earliest processors supported by Sweet16, and were not working with this feature. Now they are.
There are other changes, as well, so please review the release notes.
I'm particularly excited about the new About box. Between being much more beautiful and starting my journey to a new Cocoa version of Sweet16, there's a lot to celebrate here!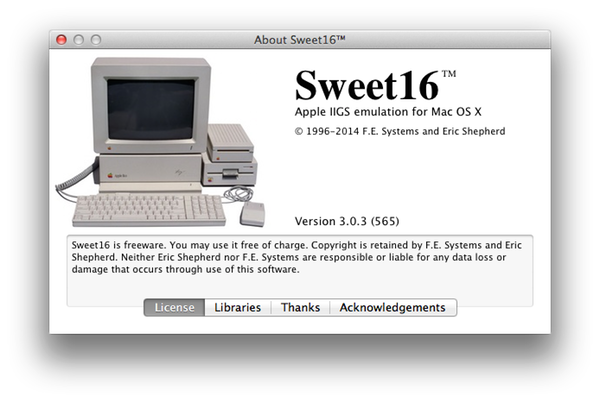 The text should now be crisper and sharper, and there's the added information, including license information for Sweet16 as well as the libraries it uses, thanks to my testers and others, and acknowledgements to others that need a hat-tip.
The things I learned converting this one simple window to use Cocoa will carry me forward as I work toward migrating more of the project. I hope to begin work on re-implementing the disks window as Cocoa soon, and more will follow.
I love working on this project, and I'm excited to see where I can take it in the future!