Current version: 1.4
Shareware: $10 ($150 school license, $500 district license)
Requires Mac OS X 10.6
OK-Writer is a word processor designed for young children to grow up with. Every editor window has an easy-to-use button-driven interface that lets them write stories and be creative with ease. They can then save and print out their stories, and even have them read aloud by the computer.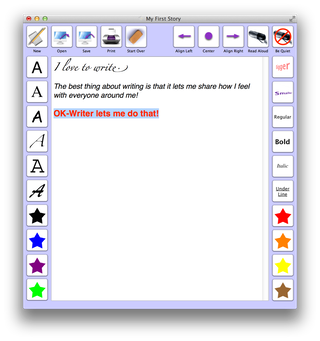 OK-Writer provides easy access to common fonts, styles, and colors. Each button has a fun sound effect to engage the imagination of your child.
However, OK-Writer still offers all the standard features expected in a basic word processor, including a spell checker, complete access to font and style settings, the ability to insert graphics into stories, and much more. These options are all available through the pull-down menus, and are available when your child is ready to use them.
OK-Writer also features "Speak As You Type," a fun and educational feature that you can enable in the preferences. With this feature, OK-Writer can recite aloud the keys, words, and sentences as your child types them (in any combination). This can help new readers learn words, and can be of value to visually impaired students as well. With these features, plus full support for full-screen mode on Mac OS X 10.7 and later (while still compatible with Mac OS X 10.6 as well), OK-Writer is a great way for kids and anyone with the need for an easy to use word processor to write.
System Requirements
OK-Writer was designed from the ground up for Mac OS X 10.6 "Snow Leopard" or later.
If you need an older version of OK-Writer that runs on Mac OS X 10.3, you can download it here.
Buying OK-Writer
OK-Writer is shareware, and costs only $10 for a single-home license. This license lets you install the software on every Macintosh in your home. Schools may buy a site license that allows OK-Writer to be installed on every Macintosh on a single campus, including school-owned laptops that go home with teachers or students. The site license costs $150.
I also offer a district-wide license, which lets your school district install OK-Writer on every Macintosh it owns, including those in classrooms, offices, labs, and district-owned computers that go home with teachers or students.
OK-Writer doesn't have reminder notices to remind you to pay; we don't feel that it's appropriate to confuse children with nagging messages. Instead, we count on the honesty of parents and teachers to pay for the product if they choose to keep the software for more than a 10-day trial period.
Whichever license works for you, choose the option that suits you best in the sidebar. Thank you in advance for your support!
Technical Support
For technical support, or if you have questions about or would like to make suggestions for ways to improve OK-Writer, please email sheppy@sheppyware.net.
Version History
Version 1.4
Added support for full-screen mode on Mac OS X 10.7 and later. Updated icons look beautiful on Macs with retina displays. On systems that support it, the find bar is used in-window instead of using a separate Find window. The buttons and other window objects now stay in perfect alignment as editor windows are resized, and the background of the editor window control areas are now a friendly periwinkle color instead of a steel grey.
Note: Version 1.4 of OK-Writer removes support for running on PowerPC systems, and requires at least Mac OS X 10.6. This version is built for both 32-bit and 64-bit Intel Macs.
Version 1.3
Typing the letter "a" with letter-by-letter speech enabled no longer says "aye" on Leopard when using the new Alex voice. Also, you can now set the default font in the preferences, and there's a new preference that lets you disable the "Start Over" button to help keep small kids out of trouble. In addition, you can now configure the default folder to save stories into.
Version 1.2.1
Fixed a bug that caused layout problems when printing some documents. The margins should now be handled better and should no longer sometimes clip off text on the right edge.
Version 1.2
Added the new (optional) "Speak as You Type" feature, that lets OK-Writer read aloud what you're typing while you type it. Also added a preference to turn off the sound effects, and replaced a couple of sound effects that, while fun, were distracting in classroom environments. You can also now select a default font size.
Version 1.1
Fixed a bug that caused OK-Writer to crash when trying to open a saved story file on some computers. Also, added a French localization courtesy of Roland Tournier. And, as a final touch, OK-Writer is now a Universal Binary, which can be run natively on both PowerPC and Intel Macintosh systems.